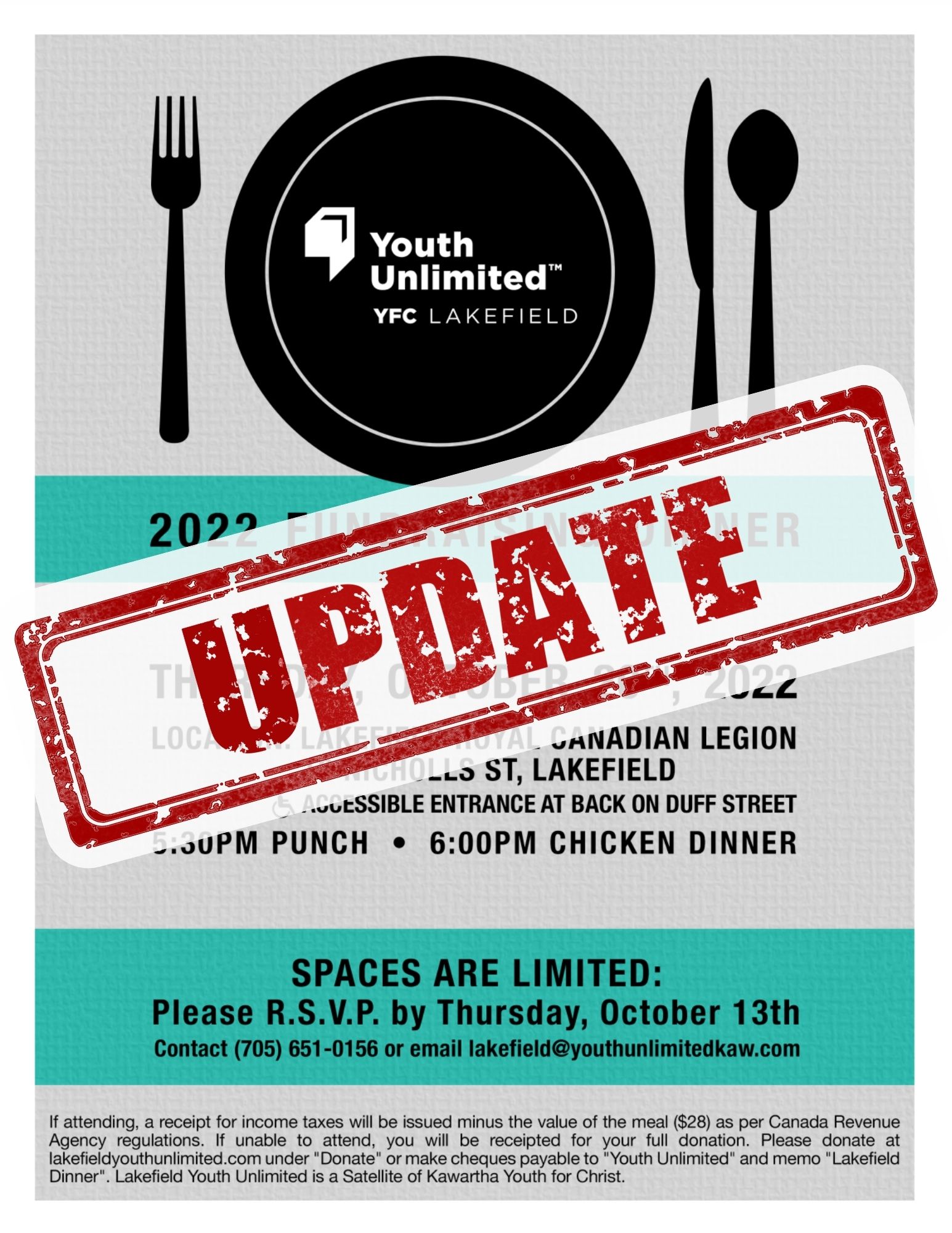 Dear Friend,
We have encouraging news to share!
This letter was intended to invite you to celebrate 19 years of ministry at Lakefield Youth Unlimited at our annual Fundraising Dinner. However, due to a few contributing factors, we have decided to cancel this year's event.
Over the summer, much of our energy went into the Volunteer & Partner Appreciation Night in June and our Grand Opening of the Barn in August. This leaves us now in a time crunch to run a large fundraising event in a short time during a busy season. In addition, as we are also currently looking to fill four outreach positions designed to engage youth and serve needs, we want to focus our volunteer's time on helping us rebuild and reconnect with our local youth, rather than on pulling off a fundraising event.
I am happy to share that during the Fall we will continue with putting our energy and financial resources into meeting the needs our schools, communities, families, and youth are experiencing.
On Thursday, October 27 we will be sharing inspiring stories of hope among the youth and families that we serve and work with every day. We will be doing this by posting short videos and stories to our website and social media feeds throughout the day.
How to Get Involved:
Prayer
There are two ways of doing this. The first is personally at home, while you walk through the village, or wherever you might normally spend time in prayer with the Lord starting today. The second is by joining us weekly at the LYU Barn starting in October. Please contact us directly if you want more information.
Energy
We will be hosting a training and information session at the Barn on Thursday, October 13th for those interested in learning more about volunteer opportunities at LYU and new ways to serve. For more information visit, please contact Chris at 705-761-2903, or chrisj@youthunlimitedkaw.com
Financial
In making the decision to cancel our Fundraising Dinner, there is a risk. The risk is not hitting our financial goal of $15,000. Will you help us achieve our goal by making a financial contribution by Monday October 31st? Your contribution will allow us to continue serving the needs of youth and families in our community.
Ways to Donate:
In Person
LYU Office, 10 Hill Street, Lakefield (black mailbox next to office door)
or
Kawartha YU Office, 256 Brock Street, Peterborough (side door mail slot on Bethune Street)
By Phone
Kawartha YU Office (705.743.2900)
Credit cards can be processed over the phone
By Mail
Kawartha Youth For Christ, 256 Brock Street, Peterborough ON K9H 2P7
or
Lakefield Youth Unlimited, PO Box 1178, Lakefield ON K0L 2H0
E-Transfer
Send to donate@youthunlimitedkaw.com
No password required; in memo line write "LYU Online Fundraiser"
Online
at lyufundraiser.com (form on this page)
Please Note
Make cheques payable to "Youth Unlimited" and memo "LYU Online Fundraiser".
Whichever form of donating you use, please provide your full name and mailing address for tax receipt purposes. (This personal information can also be emailed to our bookkeeper john@youthunlimitedkaw.com)
We look forward to you joining us on Thursday, October 27th. You can also help us share our message by liking, sharing, and commenting on our social media posts on and before October 27th.
Your support and prayer is greatly appreciated.
Thank you!