Me and Marc have been meeting regularly for about a year now. Marc is curious, thoughtful, and very open. In the spring we started doing mini Bible studies together during our meetings. Our tradition is to go to McDonald's, get two $5 meals, and go through the daily verse study on our Bible apps. This always produces deep, outside-the-box conversations, which Marc is always up for. Marc's contributions often carry a maturity far exceeding his 15 years of age and I am excited to see where God takes him. I feel incredibly honored to be part of his life for this season.
At the age of ten, "Amanda's" life changed when her parents divorced. This made "Amanda" confused and angry. She didn't know why her dad wasn't around and this is when her struggles with mental health (depression and anxiety) started. At the age of eleven, she was invited by friends to attend the YFC youth group program. "Amanda" has been mentored through YFC programs for the last seven years. By having support people in her life, it has helped her to deal with difficulties that have come up, like her dad and grandma's deaths, and has helped with her general mental health.
"Amanda" recently graduated from high school. "Amanda" has the potential to change the world. She has a desire to help people see the good things in the world (their own HOPE and POTENTIAL), and to help other people. Because of YOU, we can continue to build into youth like "Amanda".
"John" is a youth that has been attending YFC Programs for 10 years now. In that time, he has struggled immensely in many areas of his life. Through it all, he has continued to rely on RYFC for support, mentorship, and a sense of community. Having others see hope in "John" has helped him see hope for his future.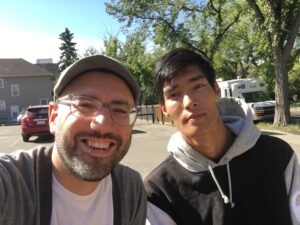 "I'll always come home, YFC is home."
"YFC has helped me to discover who I am, and how to overcome challenges in a healthy way through community and support."
"Yeah. I miss seeing you so much!!!"
"I just haven't eaten ever since Dairy Queen (where we had had lunch 2 days prior) because there is nothing to eat."
"Thanks for the lesson today!!!"
"living at Jeremiah House taught me that even when you reach rock bottom it doesn't mean that you have to stay there."
For more stories of Hope, please visit our Social Media Accounts (Top right corner of homepage) or our Youtube Page.